How to Clean All Types of Dining Chairs: Fabrics, Cushion, Upholstery
by | February 10, 2021
How to Clean Fabric on Dining Chairs
How often do you clean your dining room chairs? If it's not as often as you should be, then this article is for you! Dining room chairs come in all shapes and sizes. Some are made of fabric, while others have cushions and upholstery. Cleaning them can be a hassle if they need different types of care.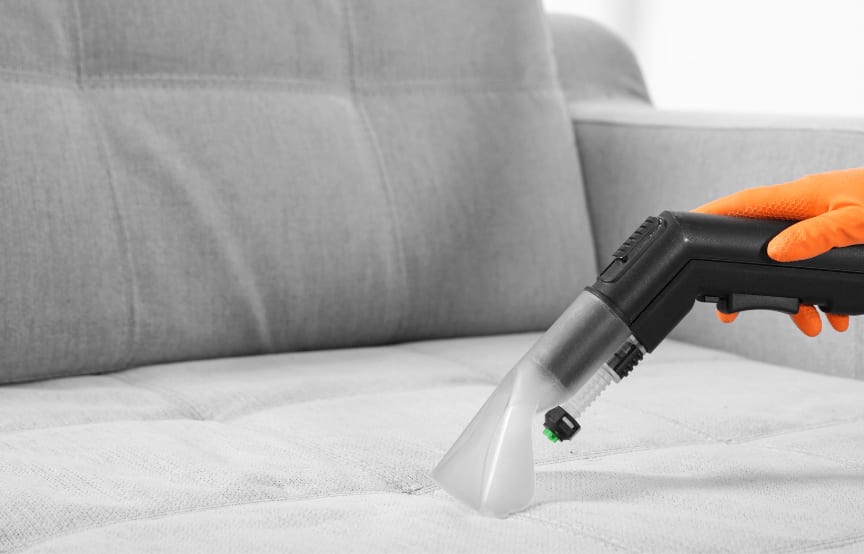 How to Clean Fabric on Dining Chairs
This blog post will show you how to clean your dining chairs so that the next time guests come over, your dining room looks perfect. It doesn't matter if you want to know how to clean rattan dining chairs, how to clean upholstered dining chairs or armchairs, or how to clean wood dining chairs; these tips will get you started the right way.
Step 1: Vacuum the Fabric on the Furniture
We recommend vacuuming your fabric chairs periodically to get rid of any dirt and grime that may be on the surface. Use a soft brush attachment to gently agitate tough spots, like stains or dried food residue. This also works on velvet dining chairs.
If there's still some remaining lint from the vacuum cleaner after wiping down your fabric dining room chairs, use one more round of brushing over them, as they will be more likely to accumulate dirt in the future.
If you can't vacuum your fabric chairs, you could get by with a dustpan and broom. It's not going to be as good as a vacuum but can work in a pinch.
Step 2: Spot Clean Harsh Stains on Chairs
If you have a specific stain that doesn't come out with vacuuming, you need to know how to remove stains from dining room chairs.
Start by drying the area with a rag or paper towel. Mix one tablespoon of liquid soap and three cups of warm water in an appropriate container such as a bowl or spray bottle. Spray the mixture onto the stain and allow the mixture to soak for several minutes.
Dab dry with a paper towel or cloth until all traces of the stain are gone. Rinse thoroughly with cool tap water and soak up any residue moisture with a dry cloth or paper towel. Wipe over the chair dry once more before using it again.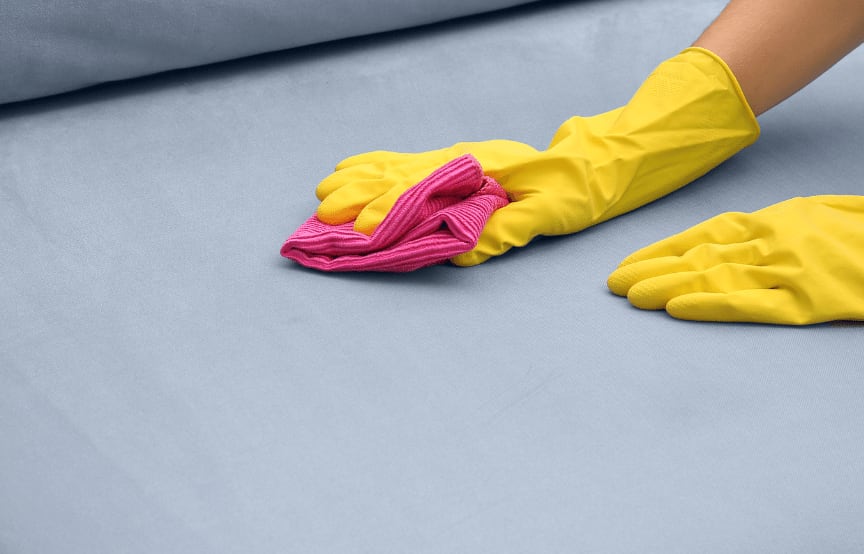 Step 3: Don't Use Harsh Chemicals on Fabric Dining Chairs
Finally, don't use any harsh chemicals such as bleach, ammonia, or abrasives on your fabric dining chairs. These types of chemicals can break down or fade fabrics and can dissolve foam cushions.
What's more, harsh chemicals aren't good for you, either. They can contain neurotoxins, carcinogens, and respiratory irritants.
Instead, stick with a mixture of warm water and soap for the best results that won't ruin your dining chairs.
Bonus Tip 1 on Cleaning Cushions
When you want to clean dining chair cushions, you need to take a different approach.
The most important thing to remember is to vacuum or shake off excess dust from the surface before scrubbing soapy suds into the fabric-covered seams. These seams often harbor the most dust, dirt, and grime on cushions, so don't forget to clean them thoroughly.
Bonus Tip 2 on How To Clean Upholstered Dining Chairs
When it comes to upholstery, you need to be careful not to use too much soap or water. The best way to clean your upholstered furniture pieces is with a sponge and an all-purpose cleaner instead. You should always test out the cleaning solution on a small portion before applying it across large areas (especially if they're fragile).
Final Note: Cleaning Fabric on Chair Is Not That Hard
It's easy to let your dining chairs get dirty and have them look dated. The good news is that cleaning fabric dining chairs and upholstery is easy and doing so regularly will help keep their appearance fresh, which should make you feel more comfortable sitting in the room with these pieces of dining furniture for years to come.